Hello world!!
So Officially this is my first blog post on fashion…☺
If you have followed me on Instagram, you know by now that I am a fashionista and love experimenting with style and fashion. In this post I want to share how I came up with an idea of fashion blogging.
I have always been interested in trying new fashion trends and experimenting outfits that would look beautiful on my body type. Not having a skinny body type made me frustrated sometimes but I have realized no two persons are same in this world and we should always accept what we have and be at peace with it. That's when I started learning more about body types and style as I always wanted to carry elegance in my look. I hardly could realize and fashion became an integral part of my life, this increased when people around me started liking my style and seek my advice on fashion. That's when I felt of documenting my style in a platform where people can learn more about it and get inspired.
Initially I was bit intimidated by the thought of putting myself in front of the world, but fashion is something that I have been enjoying doing forever, so I didn't want to stop myself. I will have to admit I underestimated the amount of work that has to be put into building this blog but again "nothing comes for free".  After spending sleepless nights and digging through all the information on fashion blogging, I decided to take my first step and there I was with my First ever photo shoot.
I never realized shooting will be so much fun, I enjoyed it from the beginning till the end. Writing down a blog feels like pouring down my heart and it is very satisfactory. There is no better feeing than to see your own vison come alive. It now gives me immense pleasure to have something of my own. This blog is like my child and I nurture it with all my love and passion…☺
So now About this outfit….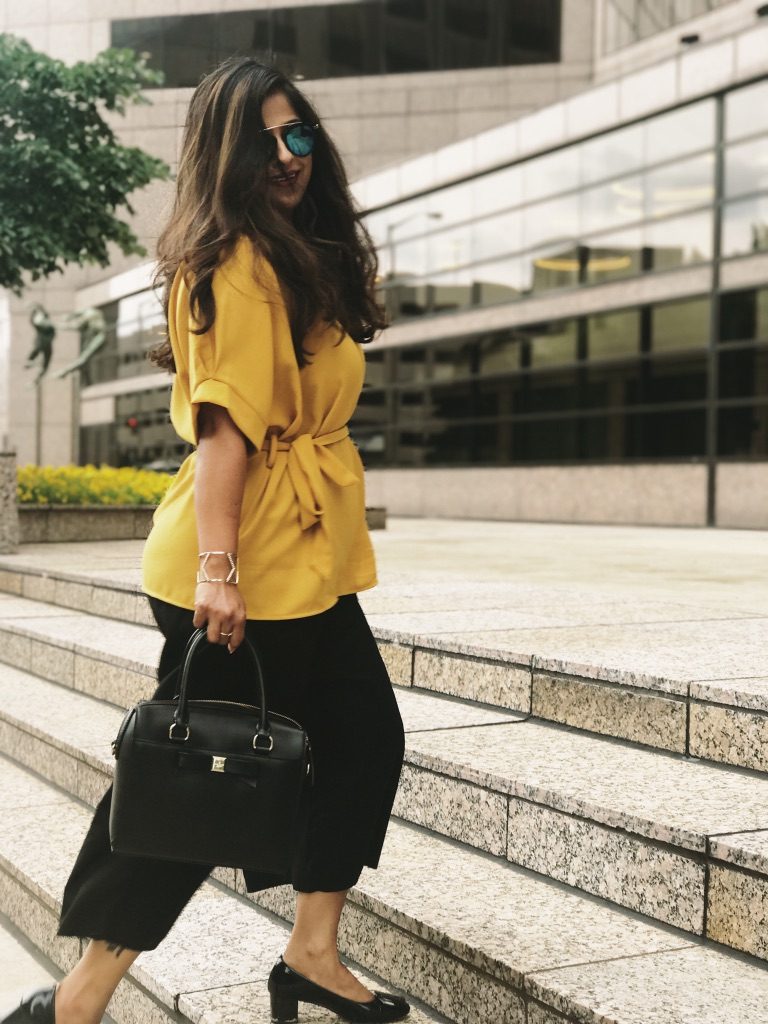 This top is so comfortable and versatile that you can practically wear it for any occasion, be it at work or an evening out with friends. Pictures here show me wearing it with black culottes, but it will look equally good with black jeans or a pencil skirt. I also love how the belt with this top accentuate the waist giving an hourglass shape to the body. The color of the top is so pretty which makes it a perfect summer look. I have Paired this look with a black pumps from Michael kors and they are the most comfortable pumps I have ever had. To complete this look I am carrying a black satchel from Katespade which goes so well with this outfit.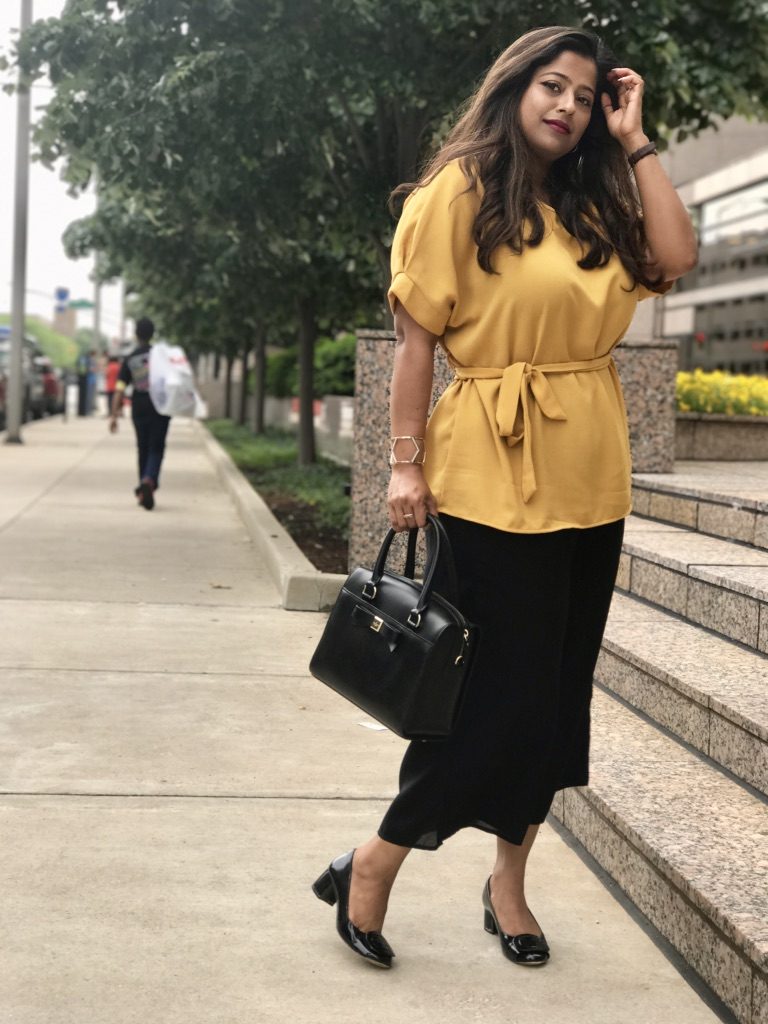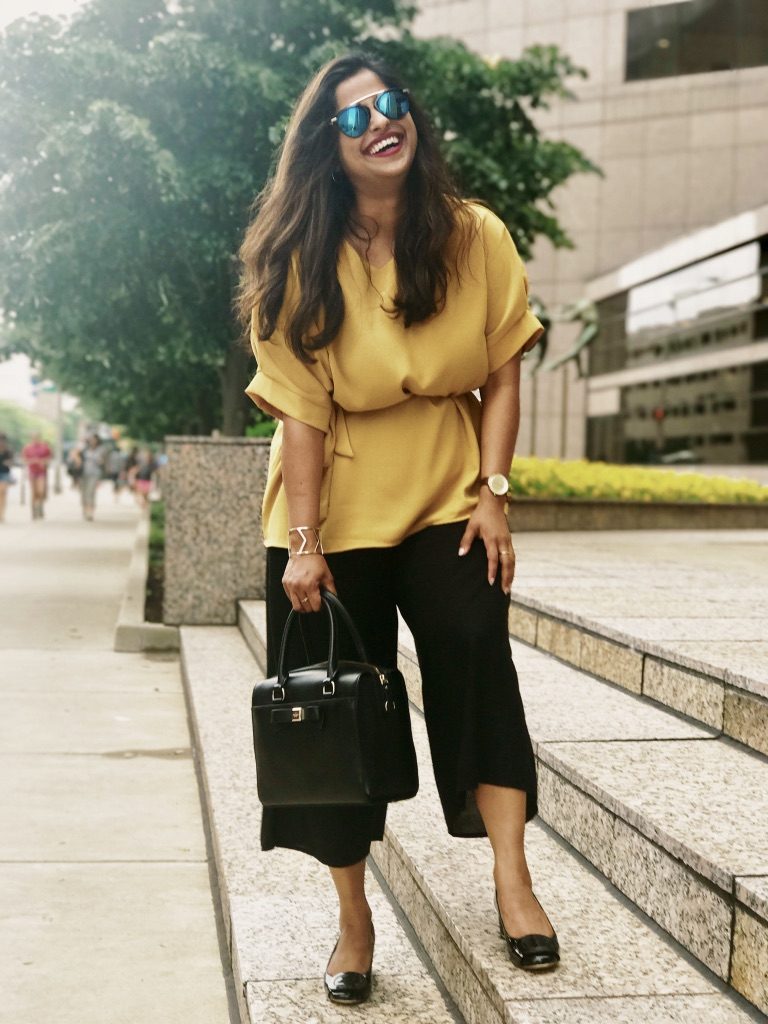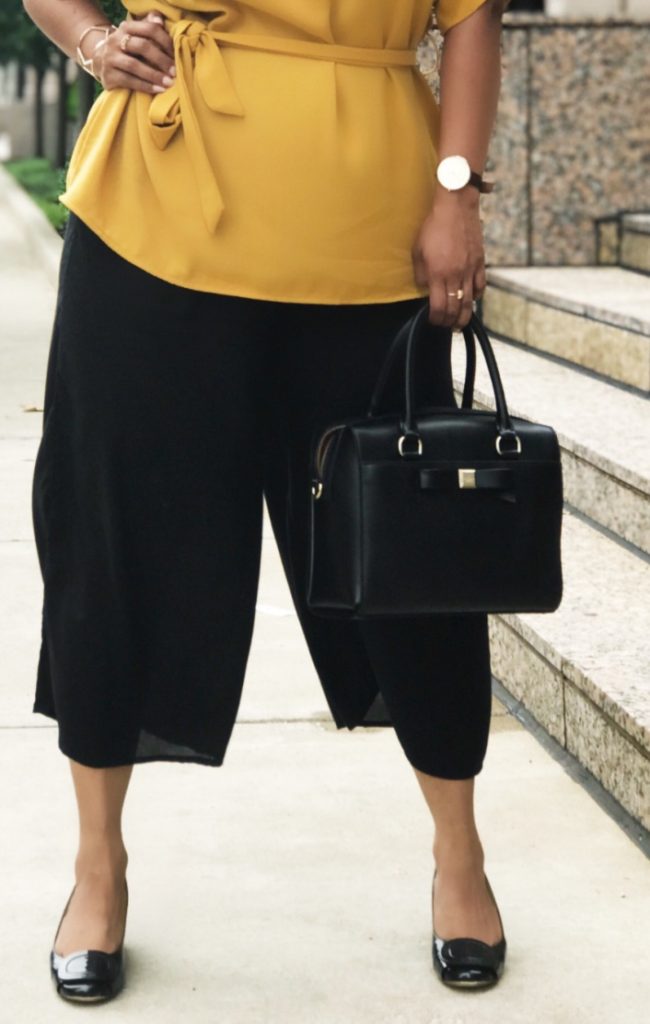 Details of outfits:
Yellow Top ( comes in other colors too) –  Here
Cullotes –  Here
Black Satchel – Here.
Other favorites in Bags – Here
Pumps: Black is sold out similar in nude: Here
Other Similar Shoes: Here
I hope you all liked reading this blog. I would love to hear from you how you feel about this outfit.
You can follow me on Instagram and Facebook for more post on fashion.
Thank You for Visiting and you all have a great day!!
xx Payal