Hello Lovelies!!
Hope you all had an amazing thanksgiving weekend with your family and friends. From the time, Thanksgiving starts; it just brings in the festive mood followed by Christmas. It has been an insane Thanksgiving weekend for me, I literally "shopped till I dropped"… :). My Husband is obviously not happy about it as he was sponsoring it all…☺ .But Thanksgiving is the time when you get the best deal of the year in America and you literally don't want to miss it, at least I didn't want to, Haha.. I also had a solid reason to shop, as I am traveling international next month, Yayyy… (Will share the details with you all soon in the blog, stay tune for that) My shopping list mostly included winter wears and few household stuff that I needed for my house. Oh, and we got a new Camera so I am looking forward to better photos for my blog and Instagram. Currently we are using Canon T3i which my husband owned before I started Blogging and it has been doing a great job until now. However, now as I am learning and growing in blogging, I felt we needed a camera with few more additional features. I will soon let you all know my reviews on the new camera. So from this, you know there is lot of things going on right now and I am really excited about it!!
We are already in the end of November and you cannot step out of house without your sweaters or jackets. I live in the east coast of America and if I tell you that winters are bone chilling here, I literally mean that. As I already mentioned above that this Thanksgiving was mostly about sweater shopping and there are so many cute and cozy options that you don't want to leave them, I did exactly the same…☺ You get a wide range of sweaters right from basic cardigan to sweater dresses and they all look so good and stylish at the same time. Today I am sharing my favorite basic sweaters with you all here in the blog and trust me they are so good and comfy that I have been wearing these on repeat.
This cold shoulder yellow Pullover sweater is one of my favorite.I have also shared another pullover look Here This is so comfortable and the material is soft that I can wear it all day. The material is very light weight and is perfect for transitional fall weather, or if you live somewhere, where fall & winters are relatively mild. The cherry on the cake is that the sweater price is so reasonable (below $30). I have paired this yellow sweater with blue jeans but you can pair them with any color jeans as love between pullover sweater and jeans is known forever, they go so well together. Just slip into it and viola! You are ready for a perfect casual and cool look. I also want to talk about these suede boots. They are hands down my favorite purchase of this season. Mid heel makes them super comfy, and you can be on your feet all day with no complaints.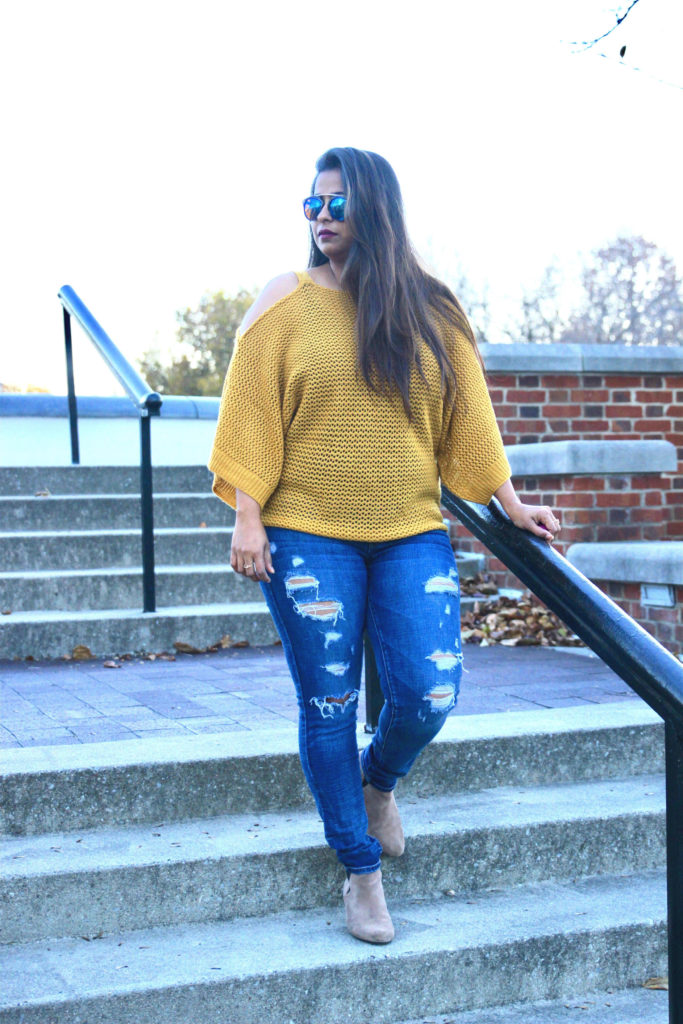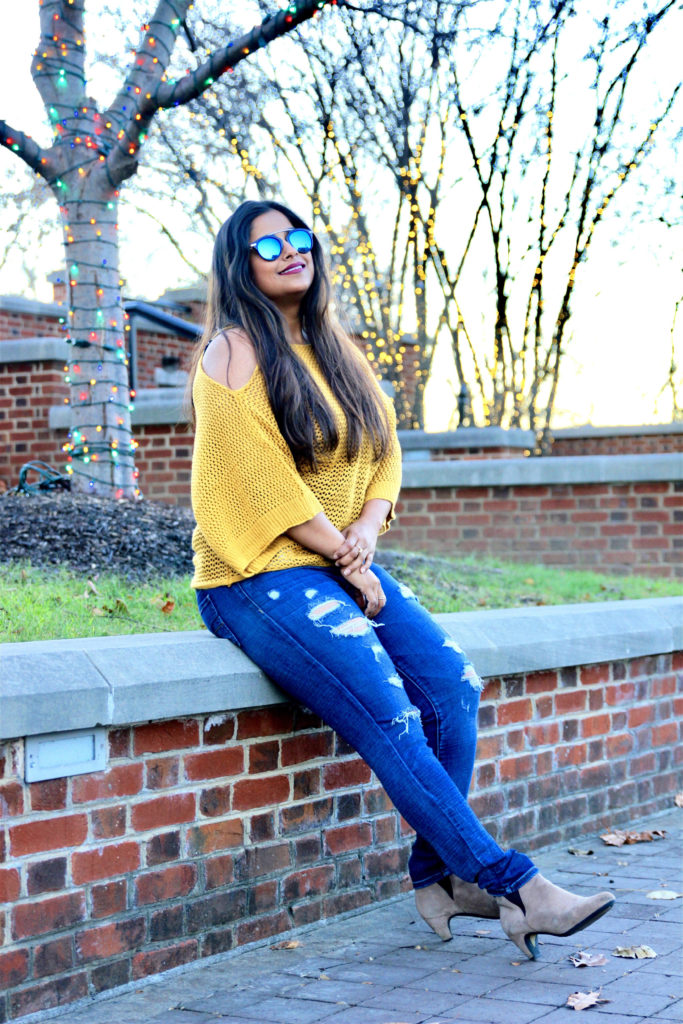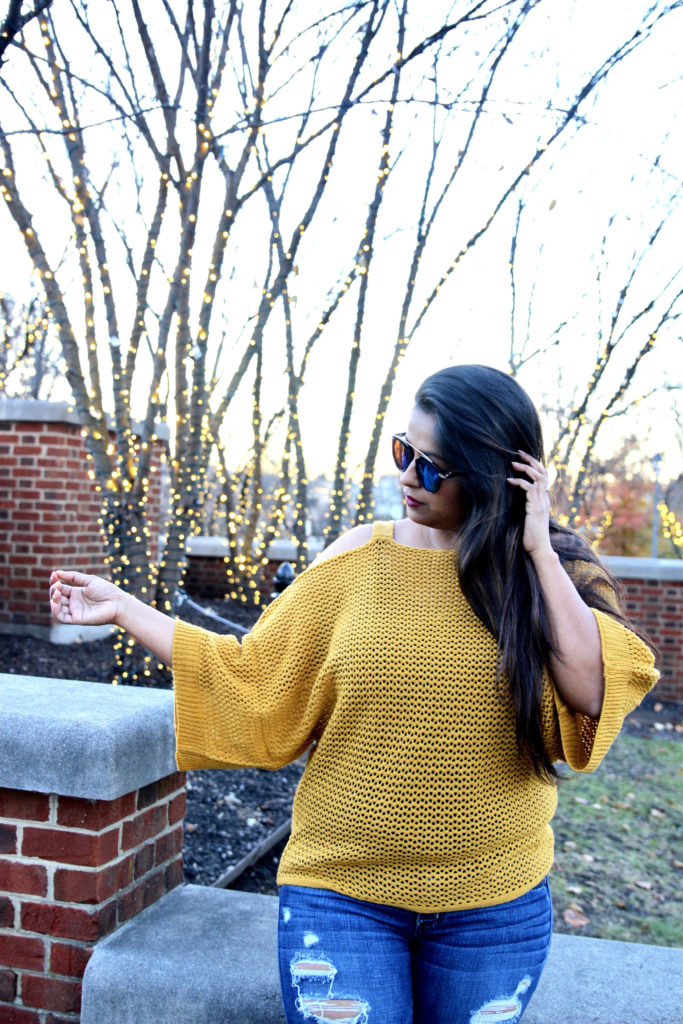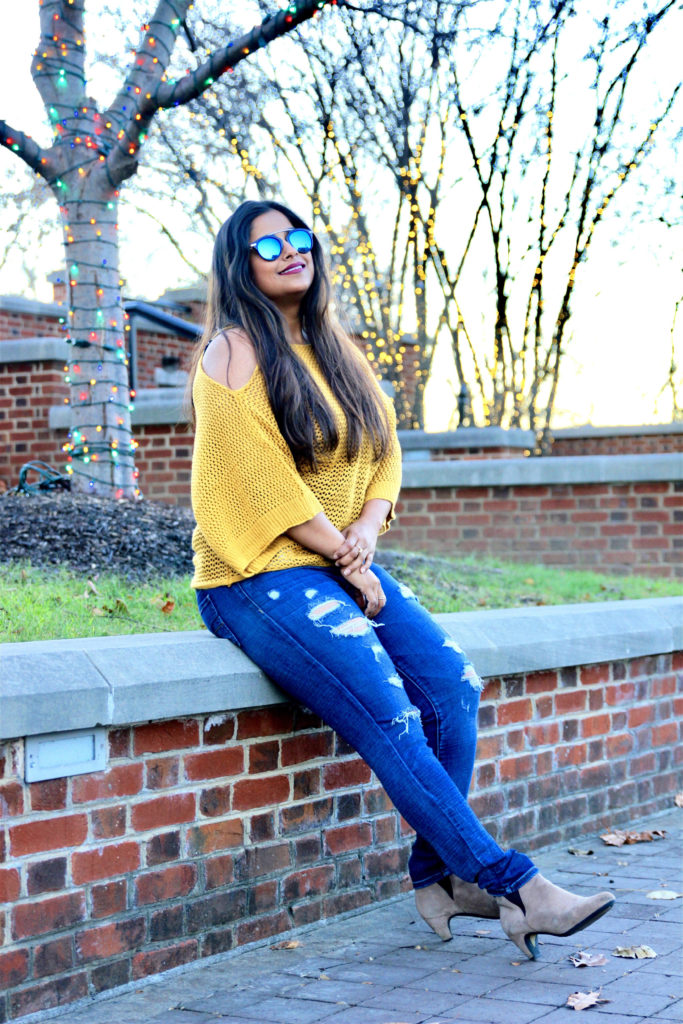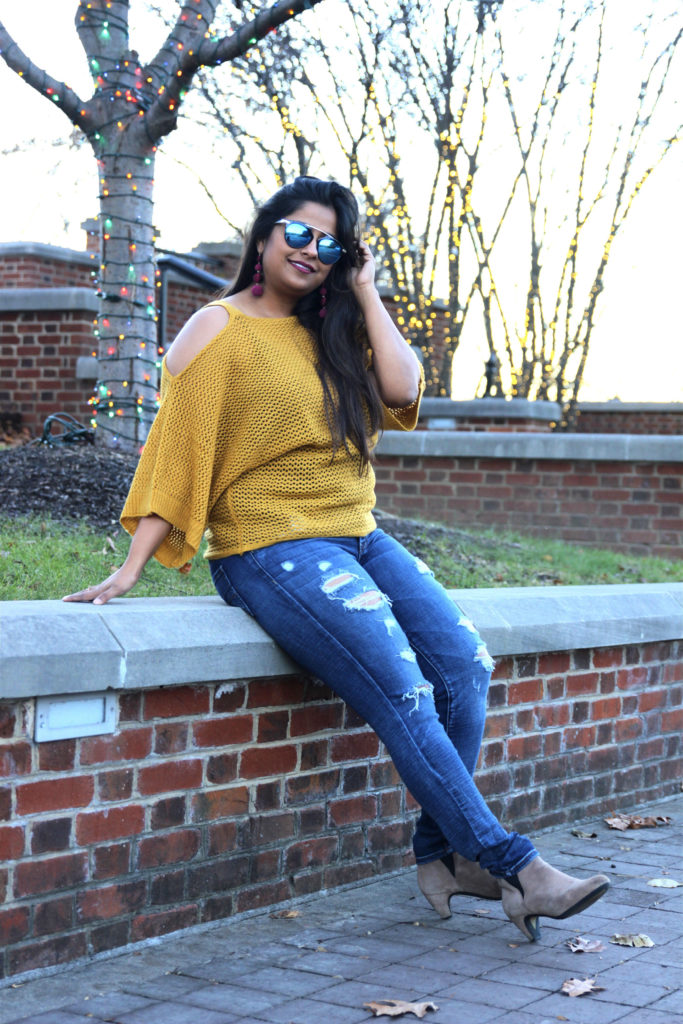 If you follow me in Instagram, you will know that I a huge lover of bright colors and especially when in winters everything is so white because of snow, I always love to wear brighter colors. Fuzzy knit sweaters are so much in trend this season; This Fuzzy Knit surplice sweater is so soft and cozy with a touch of sexiness in it. The surplice pattern give this sweater a chic look and make your waist look small and curvy. The plunging neckline gives your body a taller and feminine look. At last, this sweater is below $30! Can you believe it??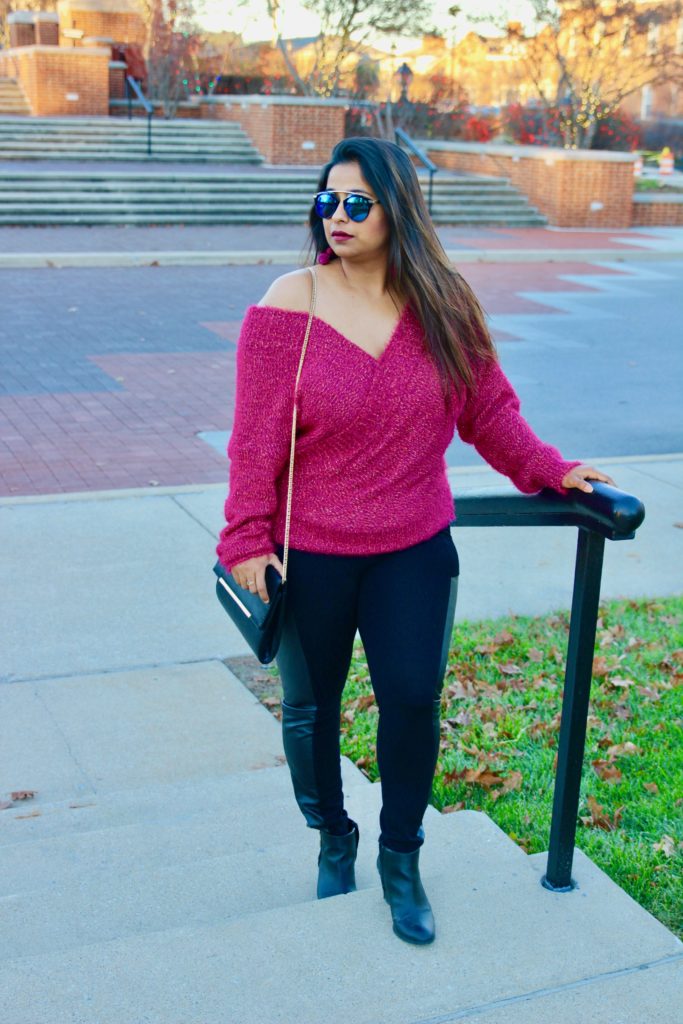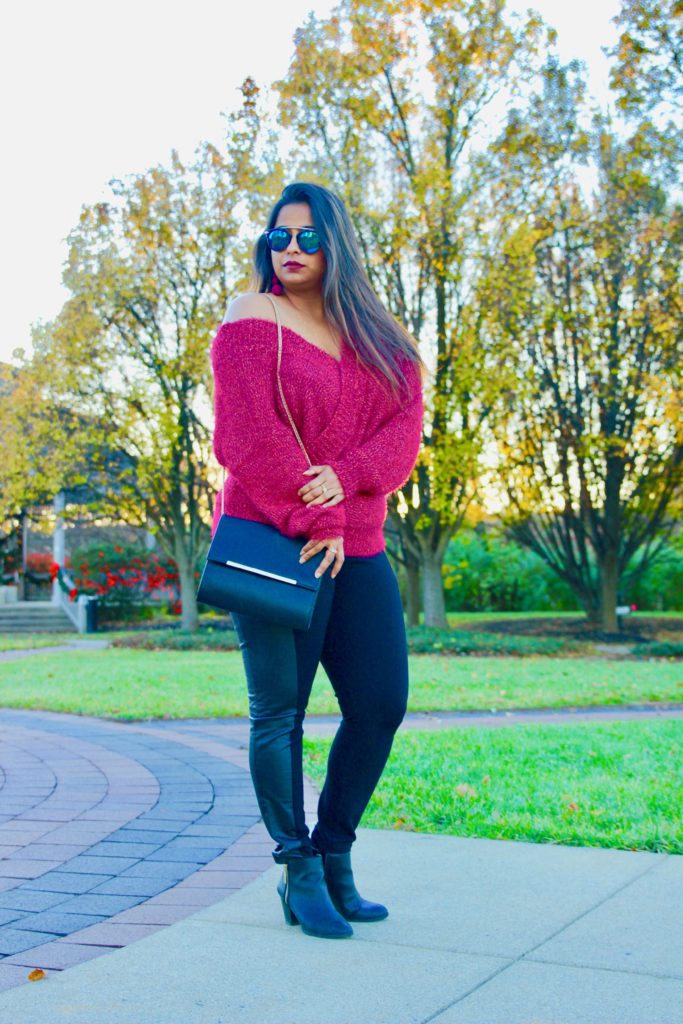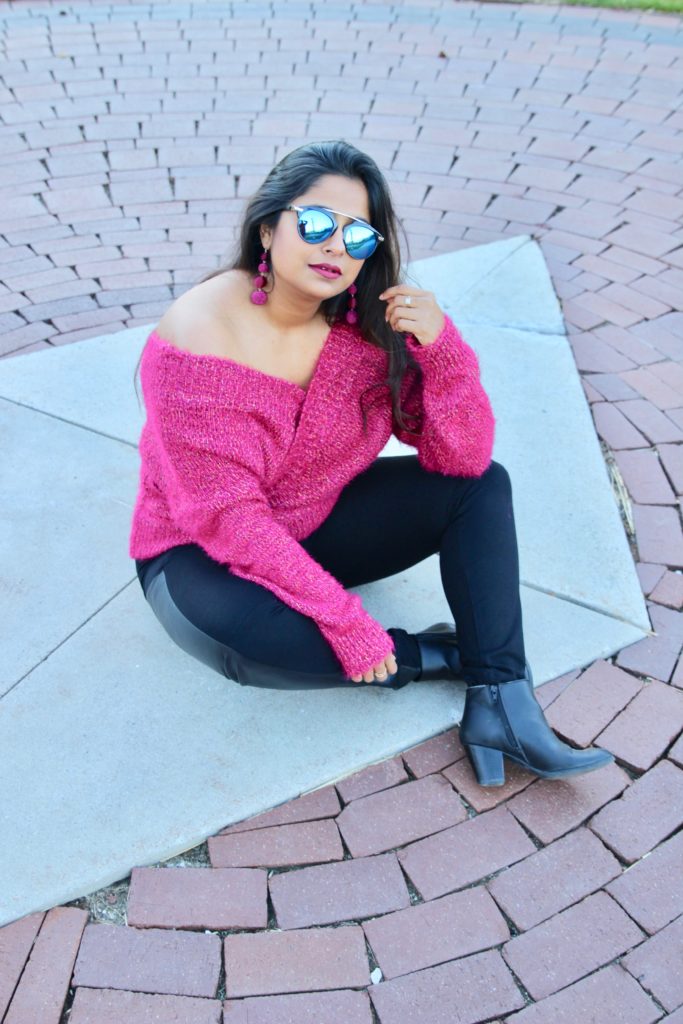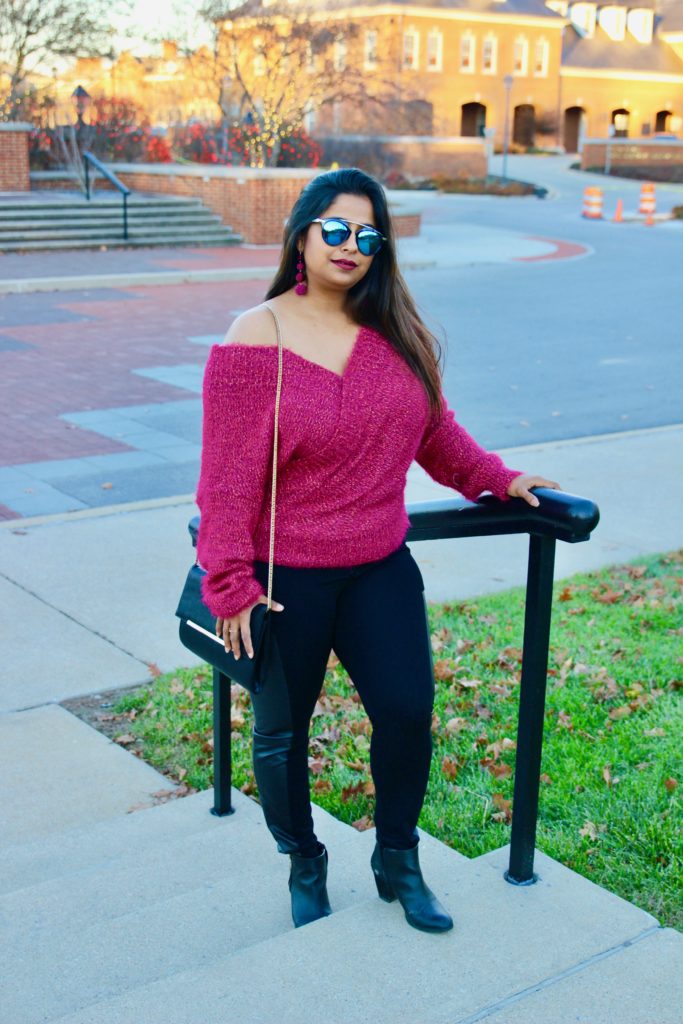 I hope you enjoy reading this outfit as much as I enjoyed styling this look and writing about it.
Outfit Details:
Could Shoulder Sweater and Here
Knit surplice sweater and Here
Jeans and Here
Boots and Here
Earrings
XoXo
Payal