Hello world!!
I am back with another blog.
Ever since I have started blogging I don't realize how the time is flying. There are lots of ups and down but the things are moving ahead definitely….
I never realized blogging will turn into my passion when I started it initially. The love that I get from you all keep me going and I feel to do better every day. Sometimes I spend sleepless nights thinking over the outfit for the next day and sometimes I spend on hours to think on writing the blog. But to my surprise I am enjoying this all despite of the extra efforts. There is a great pleasure when you see something of yours taking shape, all the hard work looks worth it!!
Now coming to this outfit…
Bold ruffles are trending big time and I am absolutely thrilled by these frilled waves that currently adorn all kinds of fabulous fashion pieces. This top is just not an ordinary top. The reason why this is a super hit this summer will not be surprise. The ruffle sleeves draw the attention of this outfit, it adds the perfect oomph to this top.
Beautiful sleeves are not just the only feature of this beautiful top. It is also a wrap top with a beautiful long wrap belt. This belt gives a perfect shape to the waist line and balance out the attention from the sleeves. Because of the wrap you get the perfect v- neck line. You can also sweep off the sleeves by making it wide shoulder or off- shoulder top, thanks to the extra-long wrap belt. This top comes in many color s you have a range of colors to select from based on your preference.
I paired this wine color top with a black faded jean as the top itself has lot of shine in it so wanted to balance out with faded jeans. I wore a red heeled sandals to give this look an urban look. Viola you are ready for any occasion.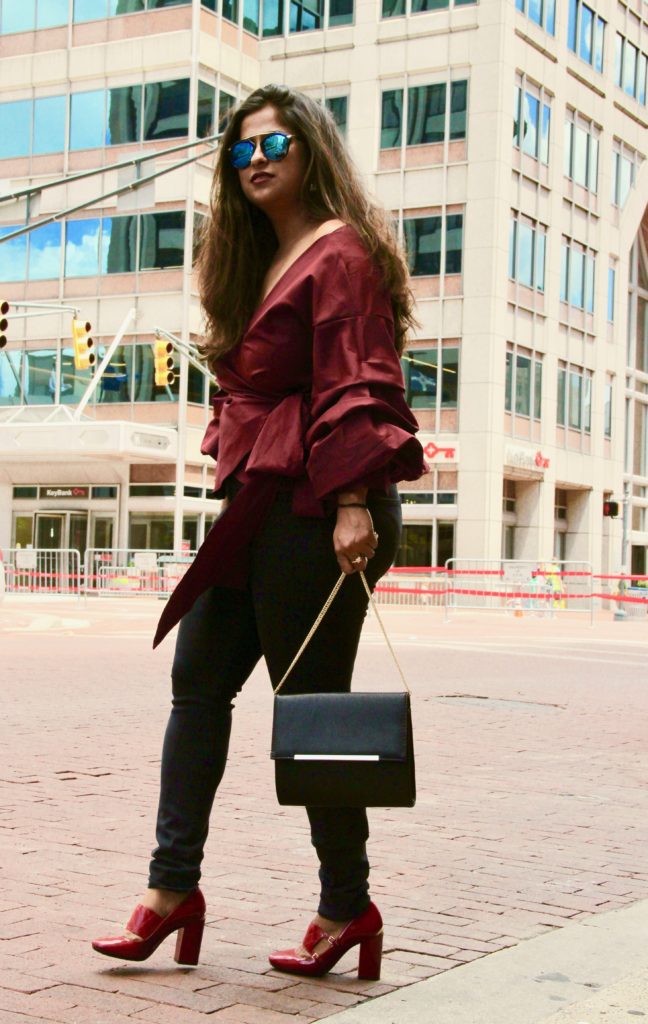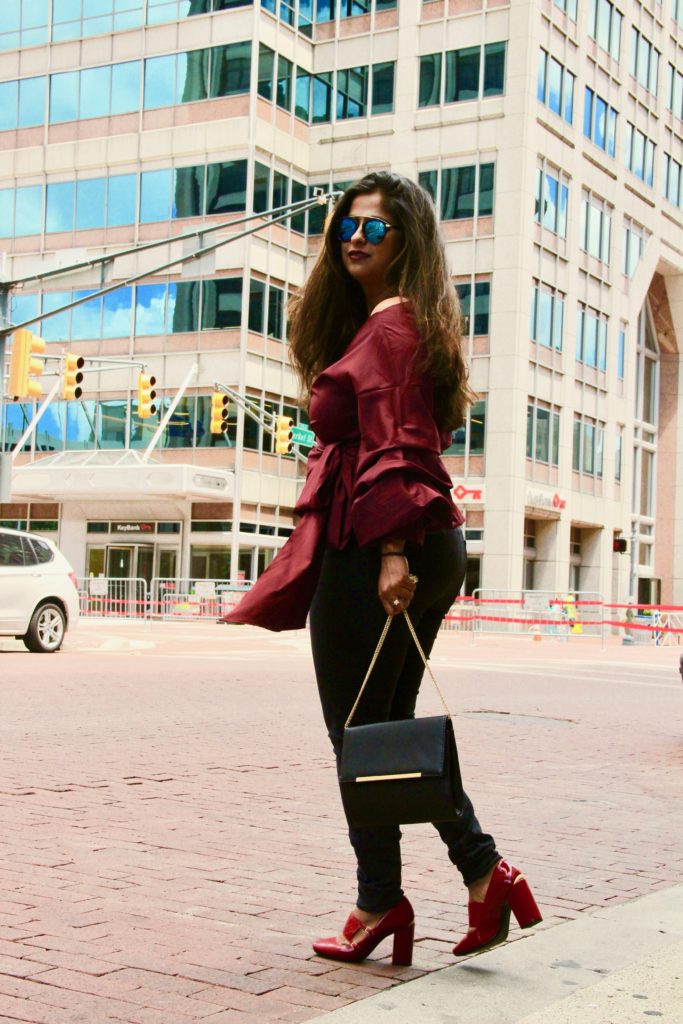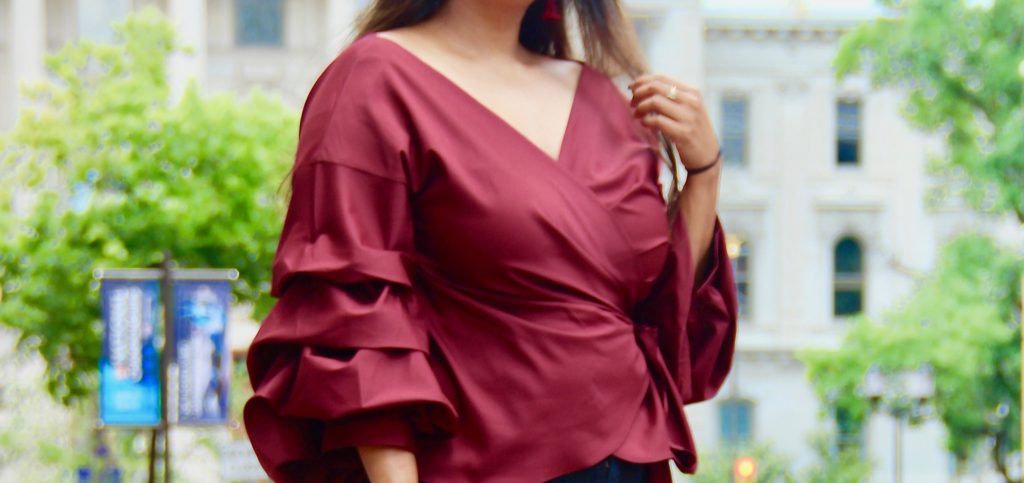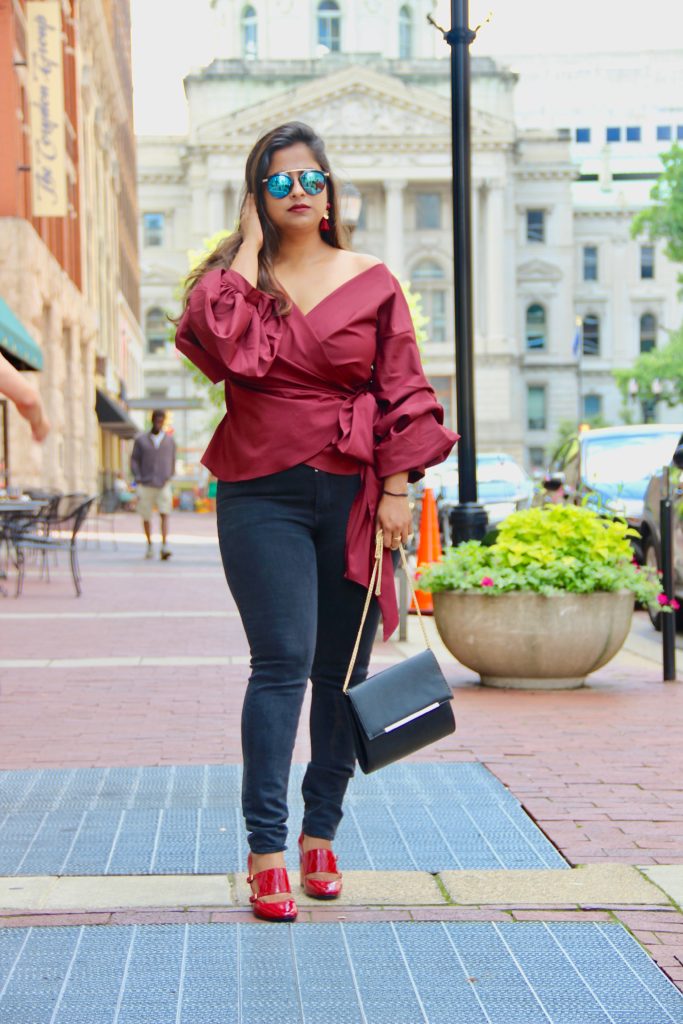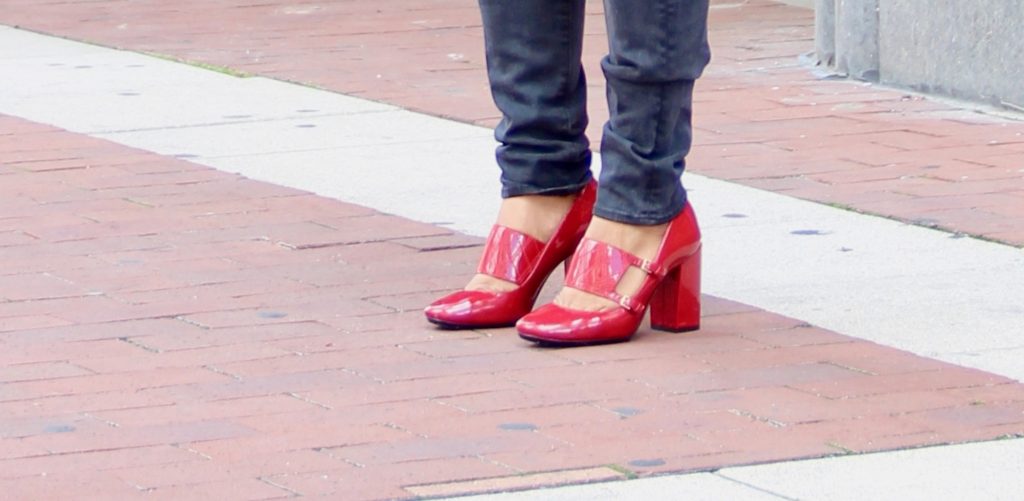 Details of the outfit:
Ruffle  Wrap Top: This color is sold out. You can find other color Here
Black Jeans : Here
Red Heels : This one is sold out you can find similar Here
Hope you enjoyed reading this post. Let me know how you liked this outfit. Thanks for stopping by!!
xx Payal